About Us
Squash Meadow Construction (SMC) is a small business with great big ideas. In operation since 2001 and in development years prior, Squash Meadow has become Martha Vineyard's premier builder of custom designed, high performance modular homes and has been featured in such national publications as Professional Builder Magazine as well as numerous articles in local publications.
Squash Meadow continues to operate in pretty much the same way as at our conception. SMC is hands on, with service and quality first. A team of craftsmen and professionals all working together, using an integrated team approach, to create high quality custom homes for their clients that represent the style of Martha's Vineyard.
From early on he learned to appreciate the architecture and style that makes Martha's Vineyard unique.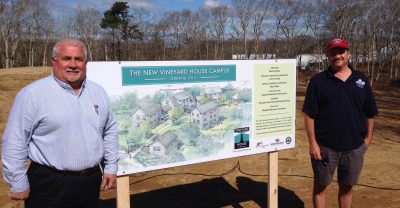 Bill Potter, owner and president of SMC has been an "island fixture" since before he could walk. His family home on the island was a grand old dame that stood out on a cliff overlooking the ocean. From early on he learned to appreciate the architecture and style that makes Martha's Vineyard unique. His home required much in the way of maintenance over the years and he learned to love taking care of it as if it was a member of the family. This instilled in him a passion, not just of older homes, but to do things right and to makes sure the work was an improvement to the property. Soon he was making repairs and painting at friends' homes and has not looked back since.
Sometimes what we were meant to do simply finds us.
Squash Meadow Construction is more than a construction company, we are a team. Since its inception, the company has built relationships and worked with island subcontractors that have the same priorities and goals as our own company. Our integrated group approach from design through completion means everyone is driven toward the same goal: a quality home built; on time and on budget. Our team consists of a factory design architect, permitting and board expertise, four construction supervisor licensed professionals on staff, and craftsmen in the construction field with over 75 years+ of experience. Along with a group of island subcontractors in the fields of excavation, foundations, electric, plumbing & heating, landscaping and HVAC.