The unofficial start to summer has come and gone! Memorial Day weekend was a bit of a wash on the island.  Rained  on and off all weekend. The team at Squash Meadow went out for our annual lunch at Atlantic, it was great finally being able to go out and eat all together as a company again!
We currently have three modulars all in progress at different stages.
Last week we set a home in the rain… on Curtis Lane in Edgartown.  We always hope for dry days so there is no water damage but we were able to get the house set and everything was dry!  The set crew was efficient and able to button up the house quickly.   Here are a few photos from the set:
The second job we have in Edgartown on Middle Street they are working on finishing the exterior siding. Subcontractors are working on the rough inspections.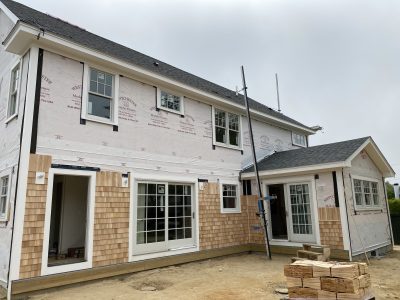 At the Vineyard Haven modular on Greenwood the siding and decking is complete. The sheet rock has been hung. The finish carpenter is working on trim and baseboards.  Tile has been completed in the bathrooms.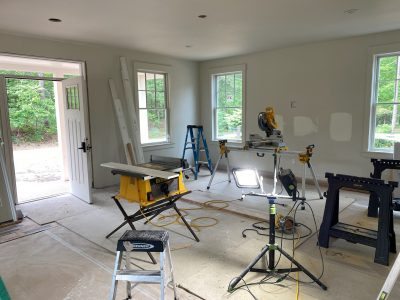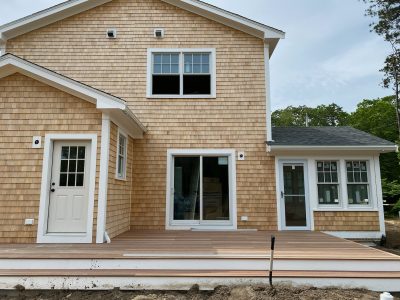 This past week we completed the modular home on Simpson Ave.  The home was set on February 11th and completed last week.  Now the owners can move into their new three bedroom, 2.5 bath home.  The property is approximately 1850 square feet of living space.  Once the owners have furnished  and decorated the property we will take final photographs for the website.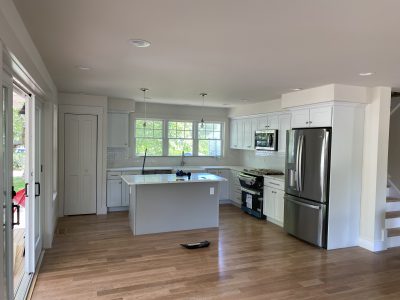 As you can see the Squash Meadow team has been busy and continues to be.  We have out next set coming up in September give everyone a little reprieve of the last five modular sets.
Have a great weekend!