The days are growing longer, the temperature is rising and the sun is shining, finally spring on MV!
The latest home was set in Vineyard Haven, the property is comprised of 4 bedrooms, 2.5 baths with a finished basement. The property is about 2,275 sq. feet plus the finished basement of 1,050 sq. ft.  The crew is buttoning up the property and will start the exterior shingles soon.  Here are some photos from set day: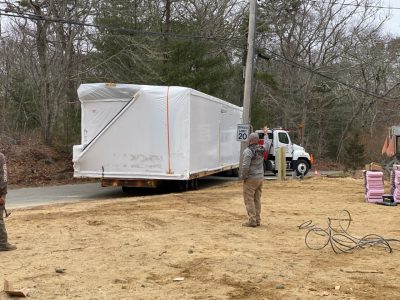 Our next set is coming up in a month April 20 & 21st in Edgartown on Middle Street.  The home has been demolished and the foundation will start soon.
We will take May off from setting a house and be right back at it in June.  The home is also a demo/re-build in Edgartown on Curtis Lane. Here is the home to be demolished this spring.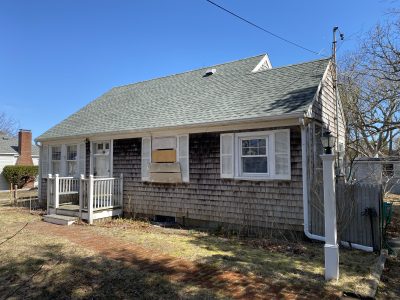 At our project in Oak Bluffs on Puritan Drive the subs are laying the hardwood flooring and drywall is going up.
The other Oak Bluffs project on Simpson Ave. the exterior siding is being finished up.  The electrical and plumbing roughs are all complete.  Insulation will begin soon.
In Vineyard Haven the Montessori School has a temporary certificate of occupancy so the school can begin to set up desks and tables and chairs etc.  Once the exterior site work is completed they will receive the full certificate and be able to begin teaching in the new building. The site work is in progress this spring.
Lastly our other modular project in Vineyard Haven on the waterfront is almost done being furnished. Here are some sample photos before the home is listed on our website.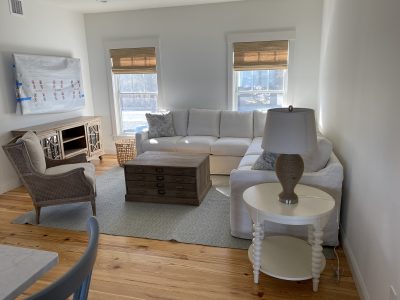 Enjoy the sunshine and warmer weather!